Back to all posts
Posted on
Staff hiring update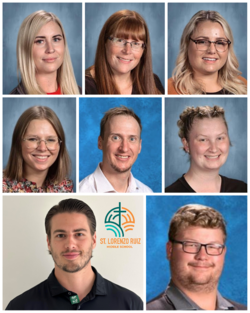 A quick update on staff hiring.

We would like to welcome the following recently hired teachers to the St. Lorenzo Ruiz community:

Jessica Dorval

Kyle Visser

Anthony Neurauter

Katelyn Justason

Katherine Turner

Haley Stuart

Lucille Snyder



We would also like to welcome Joel Peterman to the role of Vice Principal at SLR. Joel was previously in the role of ILT with us. Congratulations Joel on this leadership position!

May God bless and guide each of these teachers in their work at St.Lorenzo Ruiz Middle School.

#StLorenzoRuiz #flylikeaneagle