Back to all posts
Posted on
May Community Engagement Session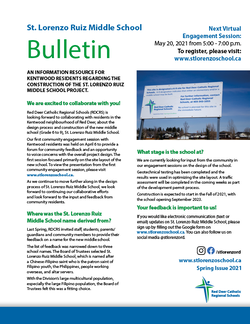 We are looking forward to collaborating with residents in the Kentwood neighbourhood of Red Deer, about the design process and construction of the new middle school (Grade 6 to 9), St. Lorenzo Ruiz Middle School.
The next virtual community engagement session will be on May 20, 2021, from 5:00 - 7:00 p.m.
Please register in advance for the Zoom meeting, by clicking here. After registering, you will receive a confirmation email containing information about joining the meeting.