Back to all posts
Posted on
Boundary Development Feedback Submission Deadline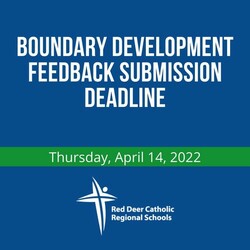 The deadline for parents and stakeholders to submit feedback for the RDCRS Boundary Development Process is this Thursday, April 14.
A Boundary Development Report that will address questions and the feedback received, will be presented to the Board of Trustees at the April Regular Board Meeting. A decision will be made about boundary development no later than the June Regular Board Meeting.
Submit your feedback prior to April 14 to the Board of Trustees and to kathleen.finnigan@rdcrs.ca.